About Plastilys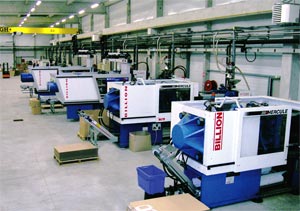 Equipped with a series of state of the art machines, PLASTILYS is able to produce a number of products and components using the plastic injection technique.
Fully integrated, the company is capable of managing all the stages of the product cycle:
product design
making of the tools in its precision mechanics workshop
manufacture of the parts on modern and rapid injection moulding machines
storage of the products in a 1500 m² logistics warehouse, built onto the plant, allowing orders of all sizes to be dispatched as quickly as possible.
This highly functional organisation enables us to offer our customers a quality service, at the lowest possible cost and as quickly as possible.
One of the specialities of Plastilys lies in the manufacture of plastic boxes for business and correspondence cards.
A number of different formats are available and new formats are regularly created.
Always in the forefront of innovation, mid 2008 PLASTILYS launched an exclusive range in a "shockproof" alloy very similar to Plexiglas and combining high mechanical resistance and excellent transparency. This asset enables us to offer printers a packaging capable of resisting the harshest conditions of transport.
For more information about our company, visit our general site: www.plastilys.fr